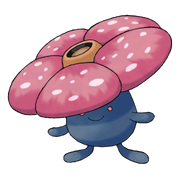 Vileplume is a Grass/Poison-type Flower Pokémon.
It evolved form of Gloom and the Oddish's final evolved form and other being Bellossom.
Appearances
Edit
Vileplume is a blue, bipedal Pokémon with rudimentary hands and feet. It has beady red eyes and a massive red flower growing from its head. Vileplume's flower is said to have the largest petals in the world, and is almost too heavy for the Pokémon itself to support. The rounded petals of the flower are red and covered with white spots. The female Vileplume has fewer, but larger, spots on its petals. It can shake, flap, or burst its petals into bloom with a bang in order to release clouds of pollen. This pollen is highly allergenic to humans and toxic to other Pokémon; Vileplume uses it to paralyze its prey. Vileplume lives in grassy plains and jungles, where it is often mistaken for native flowers.