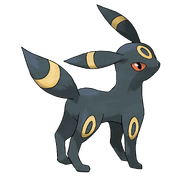 Umbreon is a Dark-type Moonlight Pokémon.
It evolved form of Eevee. It is one of Eevee's final evolved form, the others being: Vaporeon, Jolteon, Flareon, Espeon, Leafeon, Glaceon and Sylveon.
It is the starter Pokémon in Pokémon Colosseum alongside the other Generation II Eeveelution, Espeon.
Appearances
Edit
Umbreon has a sleek black body with four slender legs and crimson eyes. There are two pairs of pointed teeth visible when its mouth is open, one in the upper jaw and one in the lower. It has long pointed ears and a bushy tail, each with a yellow band around them. Its forehead and legs have yellow rings on them. Its yellow markings glow at night and strike fear into anyone nearby. It hides in the darkness while waiting for its opponents, and its yellow rings glow when it leaps to attack. It is also capable of spraying a poisonous sweat whenever it gets agitated. This Pokémon is rare in the wild, and is more often found in urban areas under the care of people.