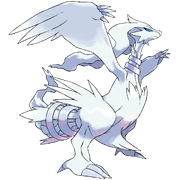 Reshiram is a Dragon/Fire-type Vast White Legendary Pokémon.
While does not evolved into or from the any other Pokémon.
Reshiram is the version mascot of Pokémon Black, appearing on the boxart.
Along with Zekrom and Kyurem, it is a member of the Tao trio, which exists in the legends of the Unova region.
Kyurem will become White Kyurem upon using the DNA Splicers to fuse with Reshiram.
Appearances
Edit
Reshiram is a white-colored, bipedal Pokémon with draconic, avian and mammalian traits. A long, voluminous wispy mane streams out from the upper side of the snout and outwards from its head. The top of this mane is adorned with two protrusions which resemble ears. Reshiram's face is fringed with spiky features, and it has a small, pointed extension below the chin. Its eyes have blue irises and black pupils. There are two pairs of pointed teeth visible when its mouth is open, one in the upper jaw and one in the lower.
Reshiram has a long and slender neck, with a fluffy, collar-like protrusion jutting out of two grey, glass-like neck-bands. Its arms begin slender and arm-like, but then flare out into a more wing-like appearance, sporting four claws which resemble hands on the leading edge. There are plates at the back of Reshiram's "hands", that sport a similar colour to its neck rings. Reshiram has a feathered or furry feature on its chest, with the lower portion protruding outwards to a point. Long feather-like protrusions jut out of its thighs. On its feet are large gray claws, three at the front and one positioned at the back, resembling high heels. Reshiram's tail is a mass of plume and ribbon-like extensions, surrounded by two large bands, similar to the ones around its neck.
Reshiram has a jet engine-like tail, which it uses to accelerate itself when flying at high speeds. It can send flames from its tail into the air to incinerate everything around it. By flaring its tail, Reshiram is capable of moving the world's atmosphere and changing the weather. This tail generator is also activated when influenced by either Fusion Bolt or Bolt Strike, which in turn powers up Reshiram's own Fusion Flare or Blue Flare. In Unova mythology, Reshiram sided with the older brother who sought the truth. As a result, it firmly believes in truth.