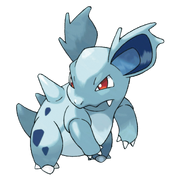 Nidorina is a Poison-type Poison Pin Pokémon.
It evolved form of Nidoran♀ and evolves into Nidoqueen when use the Moon Stone.
Appearances
Edit
Nidorina is a quadruped, light-blue Pokémon with darker blue patches. It has red eyes, large, spiny ears, and has two pointed teeth protruding from its upper jaw. It possesses large poison spikes, which it retracts when with a group and while resting in its burrow. Its paws have three claws each, and it is able to stand on its hind legs. The hind legs are longer and thicker than its forelegs. It has a stubby tail. This is a female only species; the male counterpart is Nidorino.
Nidorina is a gentle Pokémon, known to be a caring mother that chews food for its young. It seems to display close family bonds with others of its kind, and becomes nervous when separated. When Nidorina is in a group, it keeps its barbs tucked away to prevent injury, and even does so when it rests. Nidorina prefers not to fight since its horn grows slowly, but if forced or enraged, it prefers physical attacks such as clawing and biting. It also emits ultrasonic cries to befuddle foes. Nidorina lives in hot savannas and plains.