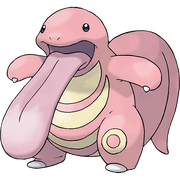 Lickilicky is a Normal-type Licking Pokémon.
It evolves into Lickilicky when leveled up while knowning Rollout.
Appearances
Edit
Lickitung is a bipedal Pokémon with a round body and a thick, powerful tail. It has soft, pink skin with curved yellow lines on its belly and yellow ring markings on its knees. It has a thumb-like claw on each hand, and a single large nail on each foot. There is a yellow spot on its palms and the soles of its feet. It has beady eyes and a long, prehensile tongue. The tongue is likely connected to its tail, which twitches when the tongue is pulled.
At over 6'6", Lickitung's tongue is twice as long as its body. Sticky saliva coats its tongue, which causes a tingling sensation when touched. It is used for cleaning, capturing prey, and exploring its environment. Lickitung remembers things by their texture and taste, although it apparently dislikes sour things. The tongue is both dexterous and powerful enough to lift people, as seen in the anime. Lickitung can be found in grassy plains and meadows.