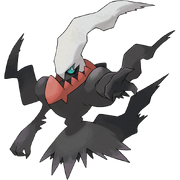 Darkrai is a Dark-type Pitch Black Legendary Pokémon.
While does not evolved into or from the any other Pokémon.
It was first officially revealed in February 2007.
It is a member of the lunar duo with Cresselia.
Appearances
Edit
Darkrai is a black, shadow-like Pokémon. It has a small head with a white fog-like ghostly plume billowing from its head covering one of its bright blue eyes, with the portion on its face resembling hair. It also has a red spiky growth around its neck. It has skinny arms and long black tatters hanging from its shoulders. It also has black, claw-like hands. It has the slight appearance of an hourglass figure and appears to be wearing an old, ripped cloak. It normally does not have any sort of legs, but it is able to extend stilt-like appendages in their place. In self-defense, Darkrai can retract its head and white "plume" into the pit atop its torso fringed by the aforementioned red growth.
Darkrai is known to "inhabit" dreams and causes the target to have unending nightmares, which can be stopped if exposed to a Lunar Wing from Cresselia. However, the "unleashing of nightmares" is actually a defense mechanism, instead of an intentionally malicious act. It can become a shadow and escape danger or contact of humans. It is also capable of little human speech. In The Rise of Darkrai, it was shown its power was little of that of Dialga and Palkia. As seen in an anime episode, Darkrai does not only cause nightmares; it is also attracted to them. It can also go around objects it is attracted to several times, as seen in the mentioned episode and Pokémon Ranger: Shadows of Almia. Darkrai possibly feeds off dreams, characterized by its association with never-ending nightmares. Darkrai is the only known Pokémon that learns Dark Void.