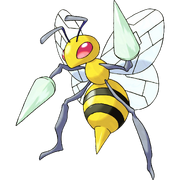 Beedrill is a Bug/Poison-type Poison Bee Pokémon.
It evolved form of Kakuna and the final evolved form of Weedle. It can Mega Evolve into Mega Beedrill using an unknown Mega Stone.
Appearances
Edit
Beedrill mostly resembles a bipedal wasp; however, it only has four legs instead of six and lacks pigment pits. Beedrill's head is round with a slightly pointed mouth, large, red eyes, and antennae in the shape of the number seven. Its forelegs are tipped with long, conical stingers. It stands on its other two legs, which are long, segmented, and insectoid in shape. Beedrill has two pairs of rounded, veined wings, and another stinger on its striped abdomen.
Beedrill is highly territorial and normally lives in colonies. As seen in the anime, Beedrill seems to be especially concerned with the welfare of Weedle and Kakuna, and it will respond aggressively to those that disturb them. Disturbing a swarm of Beedrill will cause the whole colony to attack. It flies at high speed and attacks using the large venomous stingers on its forelegs and abdomen. The two stingers on its forelimbs allow it to use its former signature move, Twineedle. It will take the victims of its attacks back to its nest for food. Beedrill nests in forests and misty wooded areas.